Skip to Main Content
It looks like you're using Internet Explorer 11 or older. This website works best with modern browsers such as the latest versions of Chrome, Firefox, Safari, and Edge. If you continue with this browser, you may see unexpected results.
Welcome
Welcome to The Ministry Lab's curated list of faith formation resources for Connecting with Families. Here you'll find tips and tools for connecting with families:
In Person

Online

Via Hybrid Ministry
Click on the link, above, or let your cursor linger over the title tab (Children & Families) for a drop-down menu; click on the option you are looking for.
If you don't find a resource to fit your need, don't hesitate to consult with The Ministry Lab's director, Emily Meyer, who is happy to assist you.
At Home Books & Curricula
Sign up for Traci Smith's Treasure Box Tuesday - downloadable resources to use in-person or share at home.
Hybrid
The MN Conference UCC and The Ministry Lab, along with Danger Boat Productions and Doing Good Together share Family Faith Toolkits.
Each installment includes downloadable materials for families to share at home and supplemental materials to support leaders expanding the theme in Sunday School or faith formation times.
Toolkits are produced seasonally. Peruse what's available and watch for the next iteration!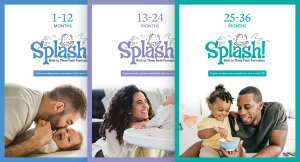 The Splash! Pack: 3 Year Set is an easy, affordable way to connect with families of young children in your congregation. These monthly newsletters support caregivers of infants ages 1-12 months; toddlers ages 13-24 months; and toddlers ages 25-36 months (respectively) by helping them incorporate faith formation into the events of daily life.
Reaching Children & Families