Skip to Main Content
It looks like you're using Internet Explorer 11 or older. This website works best with modern browsers such as the latest versions of Chrome, Firefox, Safari, and Edge. If you continue with this browser, you may see unexpected results.
Multimedia / Curriculum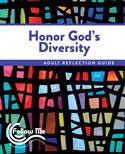 Honor God's Diversity - God calls us to honor diversity that God has created in our world by diving deep beyond just accepting diversity. When we recognize and celebrate the different gifts, abilities, and voices in all creation, we honor the diversity in the world God has created.
With age-specific and intergenerational/full congregation curriculum available (click here and scroll down).
Research has shown that certain movies have caused social justice change, or simply inspired good things to happen.