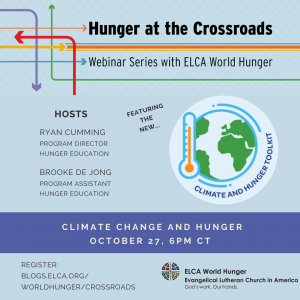 HUNGER AT THE CROSSROADS: SEXUALITY, GENDER IDENTITY, AND HUNGER
Hosted by ELCA World Hunger, this webinar series explores the many ways hunger and poverty intersect with other issues, including climate change, food production, access to housing, racial justice, gender justice and more; including ways we can be part of God's promise of a just world where all are fed.
The Ministry Lab is excited to share access to Rev. Jia Starr Brown's transformative series, Journey to Freedom: Embracing God's Cultural Mosaic of People. Along with diversity trainings, Bible studies, and book groups, the 2020 them, Intersectionality, was brought to life by six guest preachers reflecting on John 4:4-26 (The Woman at the Well) and poetry and music from Minnesota-based artists.